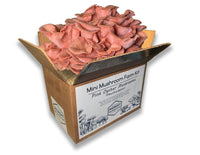 Mushroom Subscription Box
We are now offering a subscription box that includes a surprise species of mushroom each month! These kits include everything you need to grow mushrooms in just 7-10 days. 
3 Step Process
Everything Included
FREE SHIPPING
Save Over 40% with Subscription!
Learn More
Mushroom Cultivation Supplies
We offer supplies for you to get started in tissue expansion, substrate, agar work and much more. Items like the Pre-Poured Agar Plates allow you to start from spore prints or syringes. Once that's going you can expand those Agar Plates into a Grain Bag. After that you can take your grain bag and add it to a Substrate Bag. 
Mini Mushroom Farm Kits
Mini Mushroom Farm Kits give you the easiest possible way of growing your own gourmet mushrooms right at home. These kits make it so easy that you can grow them on your kitchen counter. Simply mist the kit 2-3 times per day to keep up the humidity around them. Within 7-10 days you'll have delicious gourmet mushrooms ready to be cooked up!